"Being the best now does not guarantee success tomorrow. I am focusing on our clients and our people to ensure growth into the future."
Claude C. Burrell, managing partner
We are Grant Thornton Belize
Grant Thornton, LLP has a compliment of two partners, two directors and 29 professionals delivering distinctive and personalised professional services to local and international clients.
Fast figures
US$9
million
Revenue

Global strength
Grant Thornton is one of the world's leading organisations of independent assurance, tax and advisory firms. With more than 53,000 Grant Thornton people, across over 130 countries, we are focused on making a difference to clients, colleagues and the communities in which we live and work.

Why Grant Thornton
The firm has distinguished itself as one of the leading firms in Belize by providing timely and quality services over its 30 years of existence. We are number one in terms of size and we pride ourselves for being the firm with the most professional designations in Belize.
Awards
Grant Thornton is an award-winning globally recognised professional services network. Here are some of our awards:

MCA Project of the year 2015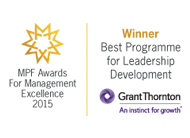 Best Programme for Leadership Development in 2015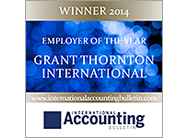 IAB Employer of the year 2014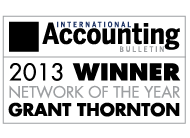 Global network of the year 2013