"At Grant Thornton Hong Kong, we strive to deliver consistency and excellence in our client experience, providing the same high quality service wherever they choose to do business. Our clients are increasingly regarding China as a single market and we are driving this integrated approach."
Daniel Lin, Managing partner
We are Grant Thornton Hong Kong
We are an integrated part of Grant Thornton China, which offers a full range of assurance, tax and advisory services to privately held businesses and listed companies of all sizes. Grant Thornton Hong Kong combines international experience with local business and technical knowledge. We pride ourselves on having a partner-led and responsive service for all our clients.  We are moving towards a new model of an integrated network that works seamlessly together with all the offices of Grant Thornton China.
Fast figures
US$20.1
million
Revenue

Global strength
Grant Thornton is one of the world's leading organisations of independent assurance, tax and advisory firms. With more than 50,000 Grant Thornton people, across over 135 countries, we are focused on making a difference to clients, colleagues and the communities in which we live and work.

Why Grant Thornton
Grant Thornton Hong Kong is committed to building long-term relationships with clients. We invest partners' and managers' time and effort in understanding client needs. We tailor each client team with the right mix of technical knowledge and experience to help them grow.
Awards
Grant Thornton is an award-winning globally recognised professional services network. Here are some of our awards:

MCA Project of the year 2015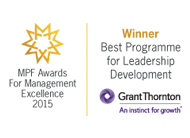 Best Programme for Leadership Development in 2015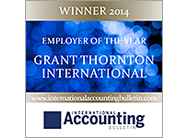 IAB Employer of the year 2014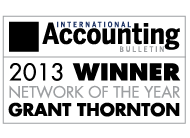 Global network of the year 2013