Digital risk
How to better manage digital risk
Cyber threats continue to soar. So what's the solution? Our advice is to build a wider 'digital risk' function which integrates data privacy and cyber security. But where should you start?
IFRS
Insights into IFRS 16
Are you ready for IFRS 16? This series of insights will help you prepare.
Tax
Say goodbye to the arm's length principle
After a slow and tentative start, the OECD's push for a solution on how to allocate and tax the profits from digital business is gathering momentum.
Technology, media & telecommunications

Home
International Business Report (IBR)
TMT outlook: Can tech spend buoyancy keep the industry airborne?
Uncertainty is mounting for technology, media and telecommunications (TMT) businesses amidst a turbulent economic and political backdrop, according to the latest research from Grant Thornton. But with businesses in other industries increasingly looking to new technologies as the path to transformation, this is also a time of opportunity. So how can the TMT industry ride out the turbulence and thrive?
"Our goal in 2015 is to continue to provide high quality services to our clients and help them and our people, unlock their potential for growth. We are doing this in all areas of the services that we provide from audit to business risk services to business consulting. We enjoy the challenges of helping businesses grow their potential for success."
Mickey Blumenthal, co-managing partner
We are Grant Thornton Israel
Fahn Kanne & Co Grant Thornton Israel is the sixth-largest Certified Public Accounting firm in Israel. Our clients come from all sectors of the Israeli market – from not for profit to the highly competitive hi-tech. The firm employs a professional staff of 305, including 20 partners. Over the years, our teams have amassed extensive experience in the fields of auditing, tax and management advisory services, in both the academic and the business worlds.

Global strength
Grant Thornton is one of the world's leading organisations of independent assurance, tax and advisory firms. With more than 56,000 Grant Thornton people, across over 140 countries, we are focused on making a difference to clients, colleagues and the communities in which we live and work.

Why Grant Thornton
We are large enough to take on the most demanding of projects but operate in a flexible and responsive way through listening and responding to our clients' specific needs rather than adopting a 'one size fits all' approach.
The services we provide to our clients are based on an in-depth understanding of the client's organisation and business environment, together with a high level of partner and senior manager involvement.
Awards
Grant Thornton is an award-winning globally recognised professional services network. Here are some of our awards:

MCA Project of the year 2015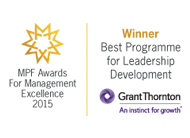 Best Programme for Leadership Development in 2015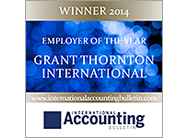 IAB Employer of the year 2014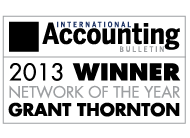 Global network of the year 2013