Digital risk
How to better manage digital risk
Cyber threats continue to soar. So what's the solution? Our advice is to build a wider 'digital risk' function which integrates data privacy and cyber security. But where should you start?
IFRS
Insights into IFRS 16
Are you ready for IFRS 16? This series of insights will help you prepare.
Tax
Say goodbye to the arm's length principle
After a slow and tentative start, the OECD's push for a solution on how to allocate and tax the profits from digital business is gathering momentum.
Technology, media & telecommunications

Home
International Business Report (IBR)
TMT outlook: Can tech spend buoyancy keep the industry airborne?
Uncertainty is mounting for technology, media and telecommunications (TMT) businesses amidst a turbulent economic and political backdrop, according to the latest research from Grant Thornton. But with businesses in other industries increasingly looking to new technologies as the path to transformation, this is also a time of opportunity. So how can the TMT industry ride out the turbulence and thrive?
"Our commitment to providing world-class assurance, tax, and advisory services has earned us a reputation of service excellence. We stand at the forefront of the industry, with the unique combination of local knowledge, professional expertise, and strong international capabilities and presence. Our partners and employees are keen on providing top quality professional services. We look forward to contributing to our clients' business success."
Xu Hua, Managing partner
Download your copy of the guide here
Expanding your business to China?
Expert advice and insight to support your expansion
Pragmatic and timely advice that allows you to focus on achieving your business goals
Guidance on finding the right location
We are Grant Thornton China
Operating on a national platform, we have a great number of qualified professionals who work closely with member firms worldwide. China's International Business Centre provides easy access to global resources. It also enables us to serve our clients across borders by leveraging the experience and knowledge of partners worldwide.
Fast figures
US$314
million
Revenue
Fast figures
5,435
People

Global strength
Grant Thornton is one of the world's leading organisations of independent assurance, tax and advisory firms. With more than 56,000 Grant Thornton people, across over 140 countries, we are focused on making a difference to clients, colleagues and the communities in which we live and work.

Why Grant Thornton
Established in 1981, we are one of China's first accounting firms, and among the first Chinese accounting firms to qualify to engage in securities business, futures and financial audit work, in addition to audit work for extra-large state-owned enterprises. We are also a PCAOB registered firm and have been awarded the H-Share licence, which enables us to sign off audits of Chinese-incorporated companies that are listed in Hong Kong (which are known as 'H-Share companies').
Awards
Grant Thornton is an award-winning globally recognised professional services network. Here are some of our awards:

MCA Project of the year 2015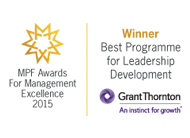 Best Programme for Leadership Development in 2015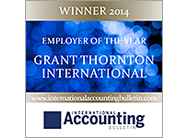 IAB Employer of the year 2014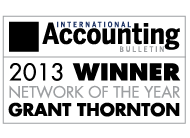 Global network of the year 2013