Digital risk
How to better manage digital risk
Cyber threats continue to soar. So what's the solution? Our advice is to build a wider 'digital risk' function which integrates data privacy and cyber security. But where should you start?
IFRS
Insights into IFRS 16
Are you ready for IFRS 16? This series of insights will help you prepare.
Tax
Say goodbye to the arm's length principle
After a slow and tentative start, the OECD's push for a solution on how to allocate and tax the profits from digital business is gathering momentum.
Technology, media & telecommunications

Home
International Business Report (IBR)
TMT outlook: Can tech spend buoyancy keep the industry airborne?
Uncertainty is mounting for technology, media and telecommunications (TMT) businesses amidst a turbulent economic and political backdrop, according to the latest research from Grant Thornton. But with businesses in other industries increasingly looking to new technologies as the path to transformation, this is also a time of opportunity. So how can the TMT industry ride out the turbulence and thrive?
"At Grant Thornton in Myanmar we are investing in the future development of the region. We work to ensure that our clients receive high-quality, timely advice that combines insight into local practices with international expertise."
Grant Thornton Myanmar
We are Grant Thornton Myanmar
Grant Thornton Advisory Services (Grant Thornton Myanmar) is a member firm of Grant Thornton in Myanmar. The firm was set up in 2014, focusing on providing tax and advisory services. As the business grows, the firm will expand its scope of services to include full service lines. Grant Thornton Myanmar combines international experience with local business and technical expertise.

Global strength
Grant Thornton is one of the world's leading organisations of independent assurance, tax and advisory firms. With more than 56,000 Grant Thornton people, across over 140 countries, we are focused on making a difference to clients, colleagues and the communities in which we live and work.

Why Grant Thornton
We work with a wide variety of clients from mid-size to international businesses who are looking for opportunities in Myanmar. We have vast experience in a wide range of industries to help clients take the initial steps of entering markets in Myanmar, the region and around the world.
Awards
Grant Thornton is an award-winning globally recognised professional services network. Here are some of our awards:

MCA Project of the year 2015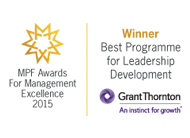 Best Programme for Leadership Development in 2015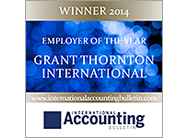 IAB Employer of the year 2014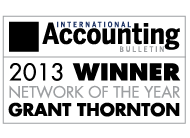 Global network of the year 2013