"Our experienced people have the solid skills and experience that owner-managed businesses and other company type and public interest entities need. As a result of our vast service portfolio, experienced personnel, cohesive audit methods and a well-connected international network, we are able to effectively serve all our clients."
Juha-Pekka Keimmo, Managing partner
We are Grant Thornton Finland
We were established in 1997 as an authorised public accountancy firm and are the fifth-largest auditing and consulting firm in Finland. Our teams have extensive experience and knowledge in auditing domestic as well as international clients, making it possible to provide our clients with high-quality auditing and related services.
Fast figures
US$10.67
million
Revenue
Fast figures
77
Personnel

Global strength
Grant Thornton is one of the world's leading organisations of independent assurance, tax and advisory firms. With more than 53,000 Grant Thornton people, across over 135 countries, we are focused on making a difference to clients, colleagues and the communities in which we live and work.

Why Grant Thornton
We provide knowledgeable services with integrity. We are strongly committed to our clients' businesses. All our services are distinctive, with a high level of personal attention from our partners and other senior staff.
Awards
Grant Thornton is an award-winning globally recognised professional services network. Here are some of our awards:

MCA Project of the year 2015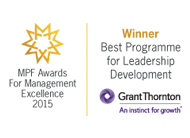 Best Programme for Leadership Development in 2015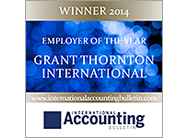 IAB Employer of the year 2014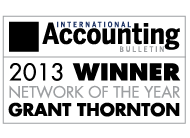 Global network of the year 2013