"Providing a service of the highest quality is not only essential in the current work environment; it is also what enables us to retain our clients and build new relationships. Our global reach and the high standard of our work methodologies are the key to our excellent service."
John C. Cheng Jr, International practice partner
We are Grant Thornton Panama
Founded in 1971, Grant Thornton Panama was established in 1996. We offer a full range of audit, accounting and tax consulting services to domestic and international clients. Our combination of international experience and solid local presence constitutes a competitive advantage for clients implementing integrated solutions with state-of-the-art technology. We are large enough to handle the professional requirements of multinational corporations and small enough to be fully familiar with the needs of our smaller clients.
Fast figures
US$2.49
million
Revenue
Fast figures
79
Personnel

Global strength
Grant Thornton is one of the world's leading organisations of independent assurance, tax and advisory firms. With more than 50,000 Grant Thornton people, across over 135 countries, we are focused on making a difference to clients, colleagues and the communities in which we live and work.

Why Grant Thornton
We strive every day to offer our clients a level of personalised attention that sets us apart from our competitors. We maintain a close relationship with clients, providing recommendations and solutions that can help them grow and optimise their operations.
Awards
Grant Thornton is an award-winning globally recognised professional services network. Here are some of our awards:

MCA Project of the year 2015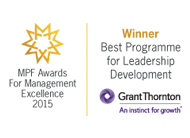 Best Programme for Leadership Development in 2015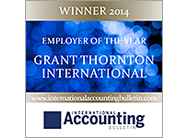 IAB Employer of the year 2014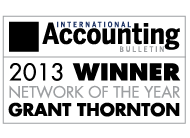 Global network of the year 2013