"Our commitment to excellence is our guarantee that we can truly provide outstanding services to all our clients. We get under the skin of our clients' businesses to ensure we are aware of their key issues and priorities."
Hossam Hilal, Managing partner
We are Grant Thornton Eqypt
Mohamed Hilal accounting and auditing was founded in 1951 and joined the Grant Thornton global organisation in 1996. We carry out a multitude of financial and management consultancy services for both public and private entities in a variety of sectors.

Global strength
Grant Thornton is one of the world's leading organisations of independent assurance, tax and advisory firms. With more than 53,000 Grant Thornton people, across over 135 countries, we are focused on making a difference to clients, colleagues and the communities in which we live and work.

Why Grant Thornton
Our approach is based on merging our local business environment knowledge with technical knowledge and international experience in order to ensure tailored results for each of our clients. As part of our dedication to providing personalised solutions, all our clients receive individual attention from partners.
Awards
Grant Thornton is an award-winning globally recognised professional services network. Here are some of our awards:

MCA Project of the year 2015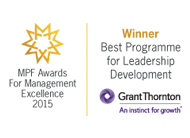 Best Programme for Leadership Development in 2015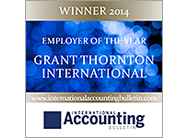 IAB Employer of the year 2014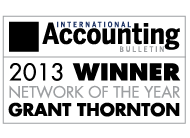 Global network of the year 2013