Digital risk
How to better manage digital risk
Cyber threats continue to soar. So what's the solution? Our advice is to build a wider 'digital risk' function which integrates data privacy and cyber security. But where should you start?
IFRS
Insights into IFRS 16
Are you ready for IFRS 16? This series of insights will help you prepare.
Tax
Say goodbye to the arm's length principle
After a slow and tentative start, the OECD's push for a solution on how to allocate and tax the profits from digital business is gathering momentum.
Technology, media & telecommunications

Home
International Business Report (IBR)
TMT outlook: Can tech spend buoyancy keep the industry airborne?
Uncertainty is mounting for technology, media and telecommunications (TMT) businesses amidst a turbulent economic and political backdrop, according to the latest research from Grant Thornton. But with businesses in other industries increasingly looking to new technologies as the path to transformation, this is also a time of opportunity. So how can the TMT industry ride out the turbulence and thrive?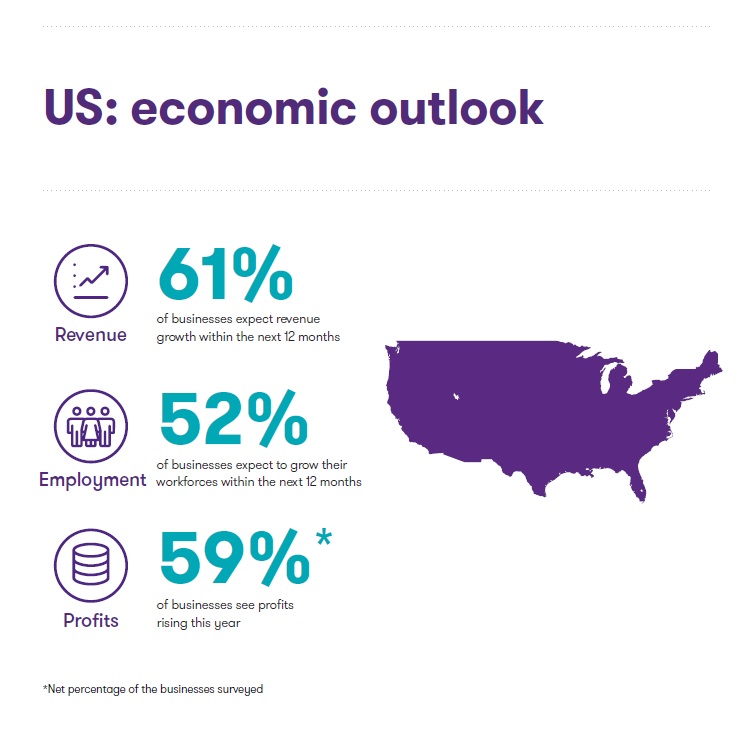 The United States is riding a strong wave of business optimism, after nearly a decade of economic expansion. Unemployment has fallen below 4% for only the second time in half a century. Property prices are high and strong consumer sentiment is driving spending growth. Public infrastructure investment plans are supportive of further growth.
Tax cut provides boost
Given these conditions, it's no surprise that net 61% of firms expect revenues to grow. A similar number (net 59%) see profitability rising. The tax cuts that came into effect this year are a major reason for this along with nearly US$300bn in extra spending approved by Congress in February. These fiscal developments are helping to drive a net 48% to plan for domestic expansion
Labour is a constraint
As a result, 91% expect wages to increase in the next year, the third highest level globally. Moreover, 30% expect above-inflation increases. In response, efforts to boost productivity are one of the main priorities, cited by 36%. It may also partly explain the high prioritisation of investment by mid-market firms in technology (net 63%).The expansion requires workers, with 52% of mid-market business leaders expecting to grow their workforces and only 7% seeing reductions. Although there is scope to draw more people into the labour force, conditions are tight. Availability of skilled workers is seen as the biggest constraint, mentioned by 30% of firms.
Concerns rise about a possible trade war
Only 7% of business leaders expressed concerns about economic uncertainty (down from 23% in Q4). However, the survey was largely conducted before worries about trade came to the fore. This included US tariffs on some metal imports (announced 1 March) and intensified fears of a trade war with China. In addition, NAFTA renegotiation talks have dragged on without agreement.
There are also domestic risks. These include a decrease in demand and potential recession as a result of higher interest rates, which are now expected to be hiked more rapidly by the US Federal Reserve. Meanwhile, legislative deadlock in Washington could also intensify after the November mid-term elections or as a result of the Mueller inquiry. This could have real economic consequences, particularly if it leads to a partial government shutdown.