Digital risk
How to better manage digital risk
Cyber threats continue to soar. So what's the solution? Our advice is to build a wider 'digital risk' function which integrates data privacy and cyber security. But where should you start?
IFRS
Insights into IFRS 16
Are you ready for IFRS 16? This series of insights will help you prepare.
Tax
Say goodbye to the arm's length principle
After a slow and tentative start, the OECD's push for a solution on how to allocate and tax the profits from digital business is gathering momentum.
Technology, media & telecommunications

Home
International Business Report (IBR)
TMT outlook: Can tech spend buoyancy keep the industry airborne?
Uncertainty is mounting for technology, media and telecommunications (TMT) businesses amidst a turbulent economic and political backdrop, according to the latest research from Grant Thornton. But with businesses in other industries increasingly looking to new technologies as the path to transformation, this is also a time of opportunity. So how can the TMT industry ride out the turbulence and thrive?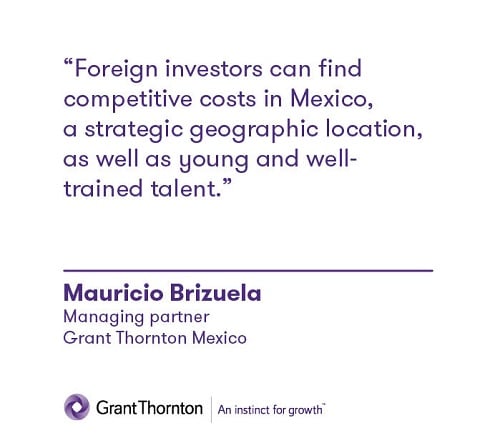 Net optimism in Mexico dipped a little in Q1, to 28%. This compares poorly with 2011-15, when the vast majority of Mexican firms had a positive outlook.
Nonetheless, the economic outlook is still robust, with the IMF forecasting real GDP growth of 2.0% in 2018. Unemployment is just 2.9%, the lowest since 2009 and less than half its peak in the aftermath of the global financial crisis.
Export growth expected and productivity prioritised
Three quarters of Mexican exporters expect to see growth this year, and none expect a decline. This is the highest outlook in three years and twice the level of any other country in the Americas. As a result, a net 50% of firms expect revenue growth in the next year and net 46% see profits rising as well.
Despite low unemployment, only a handful of business leaders (12%) expect problems attracting skilled workers. This may be a result of a major focus on improving productivity, which is a priority for 62% of firms, well above the global average and the highest in the Americas.
Uncertainty and currency volatility
The biggest constraint for Mexican firms is the volatility of the peso, mentioned as a major concern by 48%. It depreciated sharply in 2014-16, as a result of the fall in oil prices. There were significant fears about a further slide after the election of Donald Trump, given his criticism of NAFTA and of immigration flows. These factors also help explain the 38% of firms who cite economic uncertainty as a concern.