Digital risk
How to better manage digital risk
Cyber threats continue to soar. So what's the solution? Our advice is to build a wider 'digital risk' function which integrates data privacy and cyber security. But where should you start?
IFRS
Insights into IFRS 16
Are you ready for IFRS 16? This series of insights will help you prepare.
Tax
Say goodbye to the arm's length principle
After a slow and tentative start, the OECD's push for a solution on how to allocate and tax the profits from digital business is gathering momentum.
Technology, media & telecommunications

Home
International Business Report (IBR)
TMT outlook: Can tech spend buoyancy keep the industry airborne?
Uncertainty is mounting for technology, media and telecommunications (TMT) businesses amidst a turbulent economic and political backdrop, according to the latest research from Grant Thornton. But with businesses in other industries increasingly looking to new technologies as the path to transformation, this is also a time of opportunity. So how can the TMT industry ride out the turbulence and thrive?
Business leaders across the Americas have started 2018 with a broadly positive business outlook with optimism outweighing pessimism. Underlying economic indicators are also largely strong. However, in this economically diverse region, we continue to see a visible divide between north and south. While North America reports a record high level of business optimism at net 84% in Grant Thornton's International business report, risks cloud the outlook further south.
Macro-political trends help us understand this picture. Developments such as US protectionism and a potential trade war with China are disrupting established trade dynamics creating both uncertainty and opportunity. Companies looking to do business in the Americas will be asking: how do we effectively navigate this volatile trading landscape?
In this article, we explore overall economic sentiment across the Americas, as well as key factors impacting trade and how this plays out in key country economies in the region. All with a view to helping business leaders navigate uncertainty in the Americas and pave their way to growth.
North-south divide: a complex picture
North America at full steam
The strength of the US economy has been one of the key contributors to the global upturn in recent years and sets the tone for the Americas, comprising well over half the economy of the hemisphere. The IMF forecasts global GDP growth of 3.9% for 2018, the highest since 2011. This is reflected in the business optimism expressed by participants in the latest IBR.
In the first quarter of 2018, net optimism hit record highs both worldwide (61%) and in the US (89%). The quarterly series goes back to 2003. Optimism in the US was the fourth highest globally, beaten only by a few small European countries. It was bolstered by factors such as high employment, the fiscal stimulus from higher federal spending and tax cuts.
In Canada, business optimism had been broadly trending upwards in line with global trends for the last few years. It dipped to 41% in Q1, but this is likely a temporary hiccup due to rising energy costs and trade worries around NAFTA. Other key economic indicators remain strong.
The US and Canada remain considerably wealthier than their neighbours, with GDP per capita of about 3 to 4 times the average in Latin America and the Caribbean.
A more complex picture in Latin America
Despite positive spill overs from the US surge, the picture further south is more complex. Business leaders' optimism in Latin America has diverged from the global upswing since the start of 2017. Average optimism was just 25% in Q1, a two-year low and down from a recent high of 41% a year ago. It was also the equal lowest amongst emerging market regions, on par with Eastern Europe.
Net optimism is weakest in Argentina at 16% dropping from 48% in Q4 2017. This is not surprising given concerns related to the ongoing depreciation of the peso following the central bank's decision to relax its inflation target for 2018 from 12% to 15% and then cut rates by 0.75 percentage points, causing inflation worries and spooking investors. Despite the drop, greater numbers of business leaders in Argentina remain optimistic vs pessimistic, indicating that they expect wide-ranging economic reforms being introduced by recently elected Mauricio Macri, to help the economy recover.
As our country snapshots will go on to show, there are significant pockets of wealth scattered across the region and opportunities for businesses.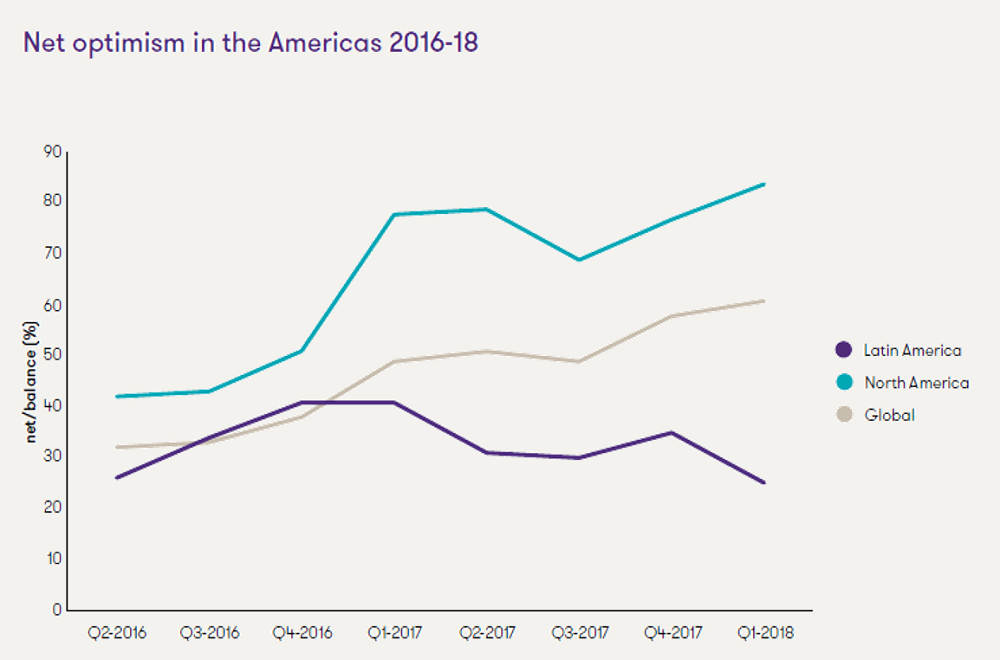 The shift in trade dynamics
Such an uncertain picture in the Americas is broadly underpinned by notable shifts in trade policy, leading to both threats and opportunities for companies looking to do business in the region.
Changing capital flows
Links with the US continue to be a major driver for many of the economies further south, and not just because of trade flows. It also comes through investment flows and the transfer of capital from workers in the US to their home countries (worth well over 10% of GDP for some smaller countries). However, this traditional state of play is starting to see disruption as Europe becomes an even larger source of investment for Latin American countries such as Brazil. In addition, China has emerged over the last decade as a major trade partner with Latin America, nearing or eclipsing the US' role in some countries.
These links with other economies mean Latin American countries might hope to benefit from a threatened US-China trade war. For example, Brazil could provide more soy to China, while Mexico could potentially fill the gaps in provision of manufactured goods to the US.
Protectionism vs free trade
In addition, as the US becomes more protectionist, other countries in the Americas are liberalising. Canada and four South American countries have signed up to the new Trans-Pacific Partnership, despite the US pulling out. Also, Canada has a new trade deal with the EU and Mercosur (the regional body that includes Argentina and Brazil) may conclude a deal with the EU by end-2018.
Rising commodities prices
Also contributing to this changeable landscape is the possibility of a new commodities price rises, which has the potential to boost many countries in the Americas, being major producers and exporters of hydrocarbons, metals and agricultural goods.
Uncertainty and opportunity
Business leaders in the Americas have plenty to think about. In the US and Canada, the struggle is in recruiting and retaining the workers needed to take advantage of rising profits. The message to businesses here is to invest in the skills needed to drive growth. Increasing wages is a short-term measure but longer-term, businesses will need to look at training programmes to boost skills among existing workers, and even working more closely with education institutions to ensure the right skills are being taught early on. They should also explore technologies that can aid working practices and boost productivity.
Elsewhere in the Americas, such as in Mexico and Argentina, the challenges include hedging against currency volatility and managing economic uncertainties, particularly in terms of trade. Business leaders across the region should be poised to manage problems, but also exploit opportunities, as trade rules and relationships move beyond their previous parameters.
Country focus
Below we examine how dynamics manifest in five key economies throughout the Americas, helping business leaders understand where uncertainties and opportunities lie.