Digital risk
How to better manage digital risk
Cyber threats continue to soar. So what's the solution? Our advice is to build a wider 'digital risk' function which integrates data privacy and cyber security. But where should you start?
IFRS
Insights into IFRS 16
Are you ready for IFRS 16? This series of insights will help you prepare.
Tax
Say goodbye to the arm's length principle
After a slow and tentative start, the OECD's push for a solution on how to allocate and tax the profits from digital business is gathering momentum.
Technology, media & telecommunications

Home
International Business Report (IBR)
TMT outlook: Can tech spend buoyancy keep the industry airborne?
Uncertainty is mounting for technology, media and telecommunications (TMT) businesses amidst a turbulent economic and political backdrop, according to the latest research from Grant Thornton. But with businesses in other industries increasingly looking to new technologies as the path to transformation, this is also a time of opportunity. So how can the TMT industry ride out the turbulence and thrive?
The gender diversity issue has been on the business agenda for many years now, yet a third of businesses still have no women at a senior management level. Somewhere there is a disconnect.
The business case for gender diversity among business leadership teams is established. It reduces the risk of 'group-think' and opens new opportunities for growth. Diversity improves the bottom line: research Grant Thornton conducted [ 1754 kb ] shows that listed companies with male-only boards in the UK, US and India alone are foregoing potential profits of $655bn.
Yet despite overwhelming evidence of the benefits of gender diversity in leadership we have made little progress. Globally the level of women in senior roles has risen just 3% in the past five years, to stand at 24%. We have also seen the proportion of businesses without any women in senior management remain static over the past five years at around 33%. That means a third of companies still have no female input into executive decisions and no women helping grow the business at a leadership level.
So what needs to change? In this report we explore how companies approach leadership and what leaders, especially female leaders, are looking for. Drawing on more than 5,000 interviews in 36 economies conducted through our International Business Report and 17 in-depth interviews with senior business leaders, we examine the attributes of good leaders and the motivations they have for seeking senior positions.
We find that companies and women value the attributes of good leadership differently and have different understandings of how they will look in practice. Women also appear to be driven by different motivations to take leadership positions. In the VUCA world, businesses need the best leadership they can get, so it's vital they respond to this challenge. By following the steps we recommend below, companies, governments and women themselves can start to turn the promise of gender equality in business into practice. There are clear rewards for those that make this happen.
Read full report
Download PDF [5459 kb]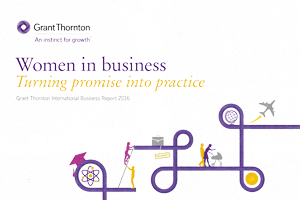 Grant Thornton
Our viewpoint