Digital risk
How to better manage digital risk
Cyber threats continue to soar. So what's the solution? Our advice is to build a wider 'digital risk' function which integrates data privacy and cyber security. But where should you start?
IFRS
Insights into IFRS 16
Are you ready for IFRS 16? This series of insights will help you prepare.
Tax
Say goodbye to the arm's length principle
After a slow and tentative start, the OECD's push for a solution on how to allocate and tax the profits from digital business is gathering momentum.
Technology, media & telecommunications

Home
International Business Report (IBR)
TMT outlook: Can tech spend buoyancy keep the industry airborne?
Uncertainty is mounting for technology, media and telecommunications (TMT) businesses amidst a turbulent economic and political backdrop, according to the latest research from Grant Thornton. But with businesses in other industries increasingly looking to new technologies as the path to transformation, this is also a time of opportunity. So how can the TMT industry ride out the turbulence and thrive?
Grant Thornton's latest quarterly business survey shows profit expectations falling in nine of the world's ten largest economies. This deterioration comes alongside rising wage pressure created by a lack of skilled workers.
The International Business Report (IBR), which surveys 2,500 businesses in 36 economies, found that the proportion of businesses that expect profits to increase over the coming 12 months has fallen from 47% in Q2 2017 to 42% in Q3. Of the world's ten largest economies, only Japan bucks the trend. Notable downturns in the profit outlook were recorded in the US (down 10pp), China (-3pp), Germany (-25pp), the UK (-4pp), France (-2pp) and India (-15pp).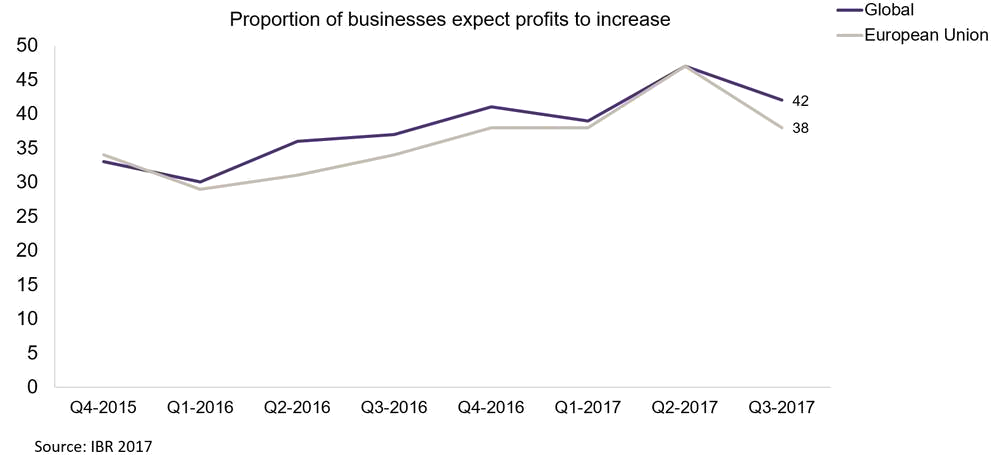 The skills shortage begins to bite
The concerns over profits come as worries about the shortage of skills gain pace. In a trend visible across most regions, 38% of business leaders (the highest level ever recorded in the IBR) say this constraint now weighs on their firms. To tackle the growing competition for skilled workers, a record number of businesses plan to offer pay rises over the next 12 months (78%).
These results show clearly that profits are under pressure. Wage bills are rising as businesses try to tackle the skilled worker shortage which is becoming acute. Companies find they are having to compete for skills - both to retain those they have and recruit those they need – and, as a result, are forced to boost pay. This is also reflected in anecdotal feedback from companies around the world. As firms come to terms with paying their staff more, their outlook on profits is impacted.
Optimism remains buoyant
Despite the less positive news for profit outlook, the overall position for business optimism remains relatively high at +49%. This is down 2pp on Q2, but follows five consecutive quarterly increases in business sentiment.
And although profit expectations have dipped in the world's two largest economies, the IBR reveals that they are driving overall positive sentiment. Optimism among firms in the US is well above the global average at 70% in Q3, while Chinese business optimism has hit a three-year high of 52%. This is reflective of a surprise bounce in trade growth this year. The World Trade Organisation has revised its forecast for trade expansion in 2017 up to 3.6%.
The UK goes against the flow as Brexit takes a toll
One of the standout falls in profitability expectations was in the UK, where the proportion of firms expecting increased profits dropped to 39% – the lowest figure in over five years. The UK has also suffered a dramatic drop in business optimism, plummeting to its lowest figure since Q1 2013, at just 9%.
This downward trajectory for optimism is at odds with the UK's G7 counterparts and many EU neighbours. Overall the fundamentals in the UK remain robust. But uncertainty is bad for business and there are signs that concerns over Brexit are weighing heavily on business leaders. However, if clarity over Brexit timings can come soon, there is a chance to turn things around – particularly as revenue and export plans remain relatively healthy.
Long-term global growth in the spotlight
With nine in ten of the world's largest economies reducing their profit outlook for the coming year, the implications will be significant and could be a real threat to long-term growth. Diverting profits to pay staff is understandable, but it could limit firms' ability to invest in future long-term growth through R&D or plant and machinery. Furthermore, if profits are depressed, businesses may look to increase the price of their goods and services – which creates inflationary pressure. It's critical that businesses ensure a balance, so that other investments are not abandoned altogether.