Digital risk
How to better manage digital risk
Cyber threats continue to soar. So what's the solution? Our advice is to build a wider 'digital risk' function which integrates data privacy and cyber security. But where should you start?
IFRS
Insights into IFRS 16
Are you ready for IFRS 16? This series of insights will help you prepare.
Tax
Say goodbye to the arm's length principle
After a slow and tentative start, the OECD's push for a solution on how to allocate and tax the profits from digital business is gathering momentum.
Technology, media & telecommunications

Home
International Business Report (IBR)
TMT outlook: Can tech spend buoyancy keep the industry airborne?
Uncertainty is mounting for technology, media and telecommunications (TMT) businesses amidst a turbulent economic and political backdrop, according to the latest research from Grant Thornton. But with businesses in other industries increasingly looking to new technologies as the path to transformation, this is also a time of opportunity. So how can the TMT industry ride out the turbulence and thrive?
Grant Thornton's latest International Business Report (IBR) finds that while business optimism is rising to new quarterly highs, a storm may be brewing in the shape of a skilled worker shortage. In addition to high business optimism, the survey finds increases in revenue and profitability expectations. However, growing fears over workforce skills could impact confidence.
The findings show that global business optimism hit at an all time quarterly high of +51%[1] in the second quarter of this year. This represents five consecutive quarters of increases in optimism. Healthy confidence is evident in the US, where optimism has hit an all-time high of 81%; in the EU, which has jumped to a two year high (50%); and in China, where optimism remains at 48% - a near three year high.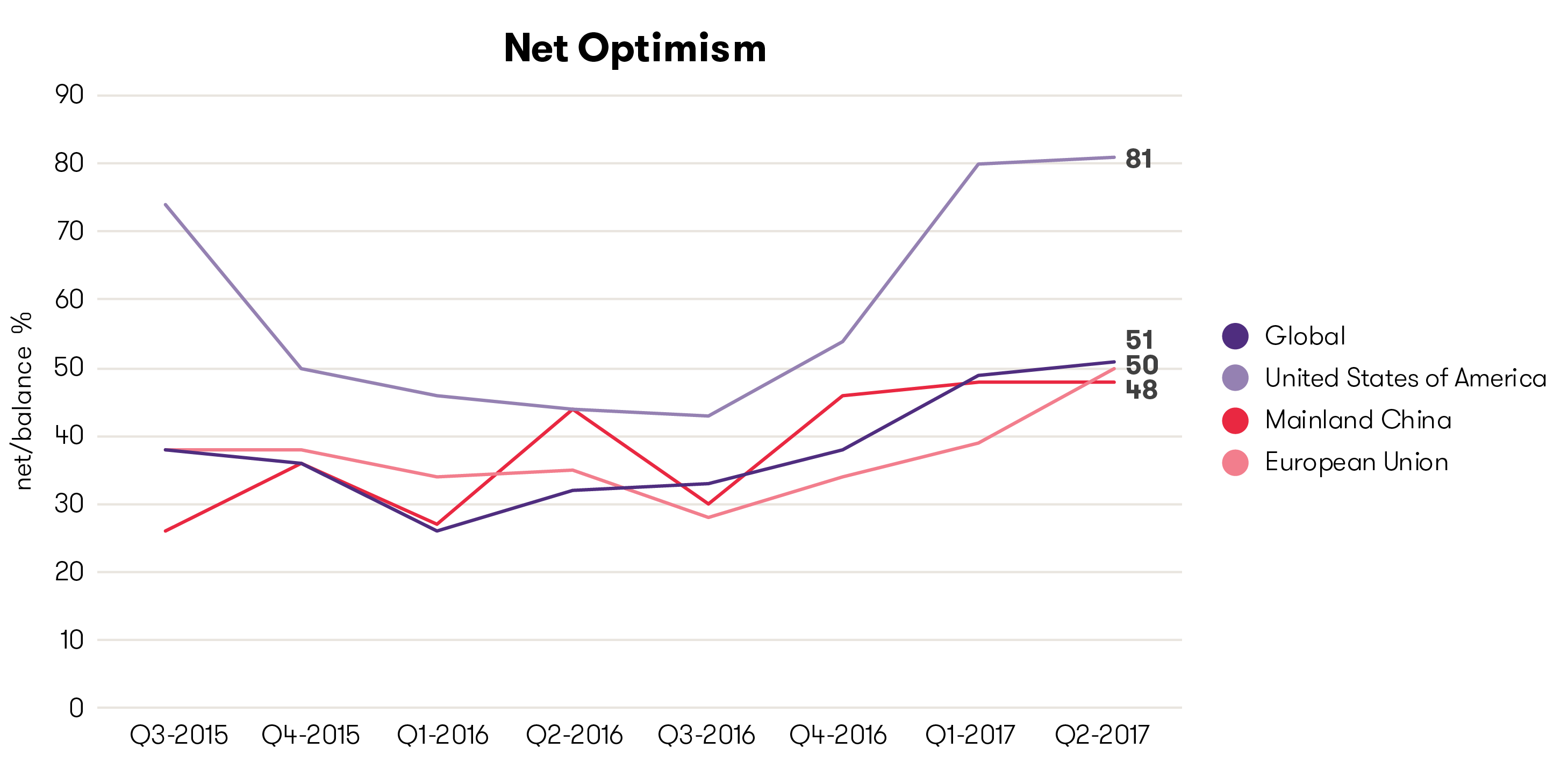 Underpinning this, global revenue expectations also equal their all-time quarterly high of 56%, as do expectations around increased profitability (47%). A small uptick in export plans also reflects the fact that global trade levels are currently strong. However, a less welcome milestone is also set this quarter. The percentage of businesses who identify a lack of skilled workers as a constraint has increased to just over one in three (35%) - its equal highest quarterly level ever.
Employment statistics are strong but firms are reluctant to raise wages
The IBR data finds that globally, +36% of businesses expect to hire more staff over the next 12 months – another record figure. However, compared to 2016, fears that a skilled worker shortage will hamper growth have increased by 2 percentage points in Asia Pacific, 2pp in North America and 5pp in the EU so far in 2017.
Despite this, and even with increased profitability expectations at record highs, only one in five (20%) business globally plan to increase wages above inflation over the next 12 months – down 1pp on Q1 2017. One notable exception is Germany, where plans to award above inflation pay rises have leapt from 35% to 43%, businesses appear to have realised that with tight labour markets, increasing pay is necessary to retain and recruit the skilled staff needed.
Businesses need to invest in staff and technology to address the skills shortage
Skills shortages are increasingly growing as a long-term issue businesses must address. The message to businesses from these findings is to plan and prepare for spending more to ensure the skills needed to drive future growth. Increasing wages is a short-term measure but longer-term, businesses will need to look at training programmes to boost skills among existing workers, and even working more closely with education institutions to ensure the right skills are being taught at an early age.
There is also evidence that businesses are conscious of the role of robots and automation in filling skills gaps. Our research shows that investment in machinery and R&D has increased in recent quarters demonstrating that many firms are taking steps to address; however, these are long-term solutions which will take time to deliver.
---
[1] Net balance % i.e. total optimistic less total pessimistic