Digital risk
How to better manage digital risk
Cyber threats continue to soar. So what's the solution? Our advice is to build a wider 'digital risk' function which integrates data privacy and cyber security. But where should you start?
IFRS
Insights into IFRS 16
Are you ready for IFRS 16? This series of insights will help you prepare.
Tax
Say goodbye to the arm's length principle
After a slow and tentative start, the OECD's push for a solution on how to allocate and tax the profits from digital business is gathering momentum.
Technology, media & telecommunications

Home
International Business Report (IBR)
TMT outlook: Can tech spend buoyancy keep the industry airborne?
Uncertainty is mounting for technology, media and telecommunications (TMT) businesses amidst a turbulent economic and political backdrop, according to the latest research from Grant Thornton. But with businesses in other industries increasingly looking to new technologies as the path to transformation, this is also a time of opportunity. So how can the TMT industry ride out the turbulence and thrive?
The international student market is growing and proactive higher education institutions will work with policymakers to shape the agenda.
By 2025 the international student market is predicted to reach 8 million students1, representing a considerable opportunity for higher education institutions (HEIs). But access to this market is shaped by countries' foreign, economic and security policy decisions – especially those related to immigration and visas.
While government thinking shapes the policy agenda, HEIs must work collaboratively to make their voice heard and ensure that the policy environment allows them to thrive. Those that don't will struggle to remain competitive. By demonstrating the economic and political benefits of international student mobility, institutions can boost their competitiveness and gain market share.
Our recommendations: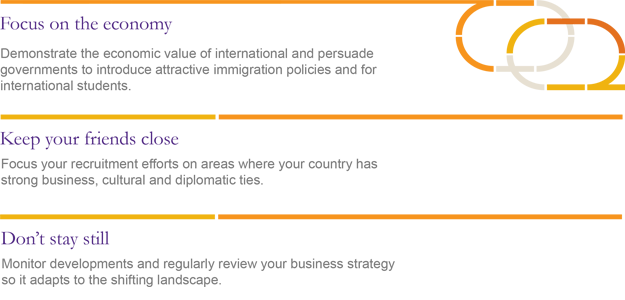 Our team has broad experience working in the higher education sector. And with member firms in 130 countries we can help you develop robust global or local business strategies that align with the wider political environment.
This is the first in our series of reports exploring the implications of international student mobility for HEIs. Future reports will address finance and fees, recruitment and reputation and the future of the sector.
Read full report
Download PDF [469 kb]