Digital risk
How to better manage digital risk
Cyber threats continue to soar. So what's the solution? Our advice is to build a wider 'digital risk' function which integrates data privacy and cyber security. But where should you start?
IFRS
Insights into IFRS 16
Are you ready for IFRS 16? This series of insights will help you prepare.
Tax
Say goodbye to the arm's length principle
After a slow and tentative start, the OECD's push for a solution on how to allocate and tax the profits from digital business is gathering momentum.
Technology, media & telecommunications

Home
International Business Report (IBR)
TMT outlook: Can tech spend buoyancy keep the industry airborne?
Uncertainty is mounting for technology, media and telecommunications (TMT) businesses amidst a turbulent economic and political backdrop, according to the latest research from Grant Thornton. But with businesses in other industries increasingly looking to new technologies as the path to transformation, this is also a time of opportunity. So how can the TMT industry ride out the turbulence and thrive?
Our 'IFRS Viewpoint' series provides insights from our global IFRS team on applying IFRSs in challenging situations. Each issue will focus on an area where the Standards have proved difficult to apply or lack guidance. This issue considers how a purchaser accounts for discounts and rebates when buying inventory.
What's the issue?
Discounts and rebates can be offered to purchasers in a number of ways, for example trade discounts, settlement discounts, volume-based rebates and other rebates. Accounting for these reductions will vary depending on the type of arrangement. This IFRS Viewpoint provides our views on the purchaser's accounting treatment for the different types of rebate and discount along with some application examples.
Our view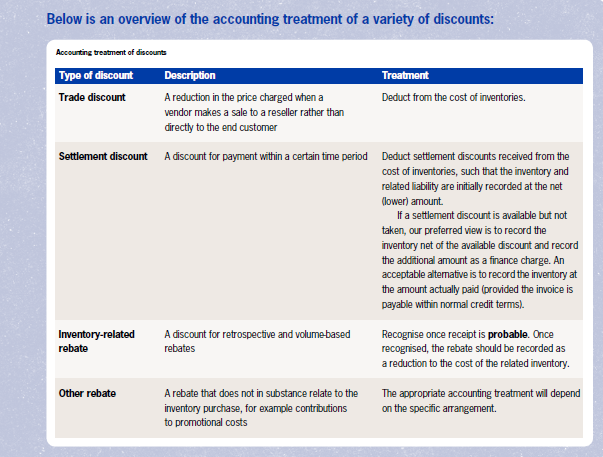 Review the attached pdf for more analysis and some application examples.