Digital risk
How to better manage digital risk
Cyber threats continue to soar. So what's the solution? Our advice is to build a wider 'digital risk' function which integrates data privacy and cyber security. But where should you start?
IFRS
Insights into IFRS 16
Are you ready for IFRS 16? This series of insights will help you prepare.
Tax
Say goodbye to the arm's length principle
After a slow and tentative start, the OECD's push for a solution on how to allocate and tax the profits from digital business is gathering momentum.
Technology, media & telecommunications

Home
International Business Report (IBR)
TMT outlook: Can tech spend buoyancy keep the industry airborne?
Uncertainty is mounting for technology, media and telecommunications (TMT) businesses amidst a turbulent economic and political backdrop, according to the latest research from Grant Thornton. But with businesses in other industries increasingly looking to new technologies as the path to transformation, this is also a time of opportunity. So how can the TMT industry ride out the turbulence and thrive?
Sector making good progress towards commercialisation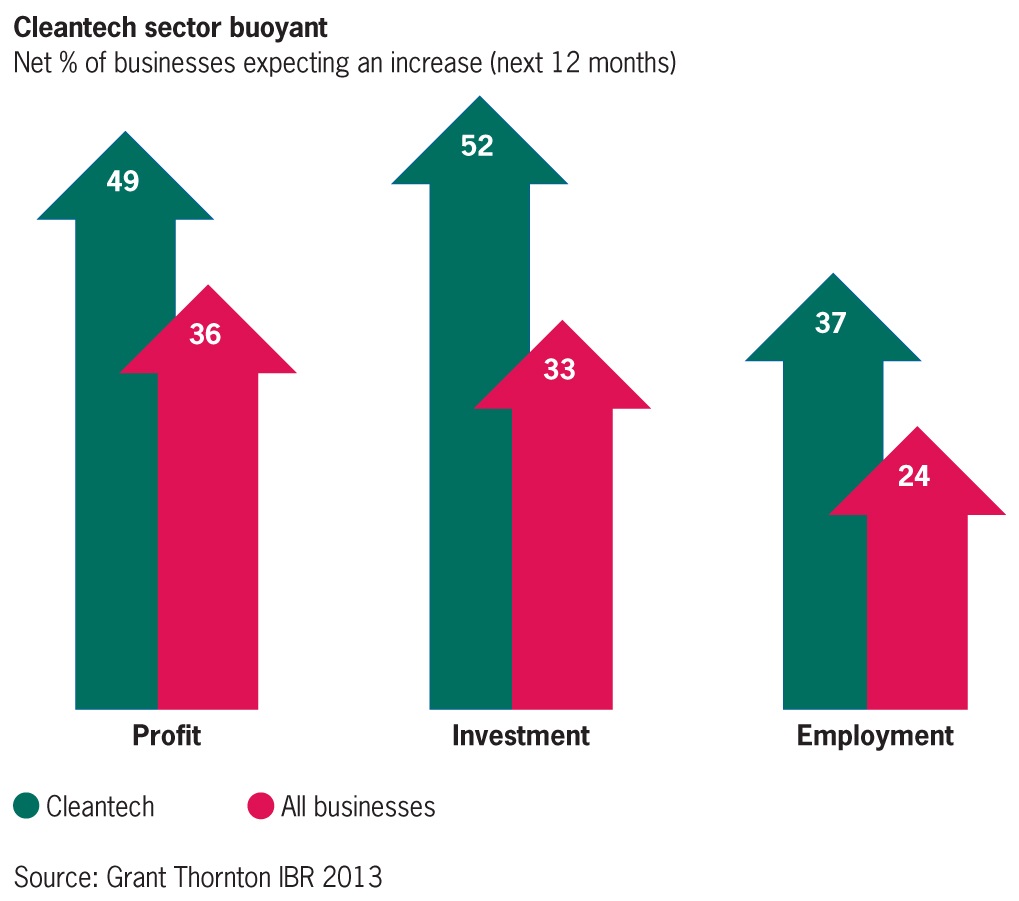 At a time when China and the EU are arguing over solar panel subsidies and shale gas has revolutionised the US – and perhaps soon the global – energy market, I was encouraged to see the general optimism amongst cleantech businesses in the Q2 update from our International Business Report (IBR).
As the chart to the left shows, businesses in the cleantech sector are more likely to increase investment and employment over the next 12 months compared with businesses in other sectors. They are also much more confident in their ability to increase profits.
Of course, the IBR is a survey which looks at intentions rather than results but it follows that confident businesses are more likely to invest, that they are more likely to hire workers, in short, that they are more likely to grow.
Challenges remain, however. Businesses in the sector are suffering more from bureaucracy, a shortage of skilled workers and access to finance compared with peers in other sectors.
Cleantech is a dynamic and still relatively young sector. Doing new things – and the same things more efficiently – offers growth opportunities. But it also pushes against traditional boundaries. It takes time for regulations and worker skills to catch up. Newer, untried initiatives present greater risk to lenders.
Despite this, demand for cleantech goods and services appears relatively strong. Just under a third of the 518 businesses surveyed are worried about their order books, below the global average and other sectors such as construction & property and manufacturing.
This is all the more encouraging at a time when governments are capping or reducing their direct support for cleantech, suggesting that good progress towards commercialisation is being made.
To learn more about our energy and natural resources services contact Kevin Schroeder or your local member firm.