Grant Thornton uses cookies to monitor the performance of this website and improve user experience
To find out more about cookies, what they are and how we use them, please see our privacy notice, which also provides information on how to delete cookies from your hard drive.
Blog
Trump, trade and the TPP
21 Jan 2017
America first
Donald Trump's election on an 'America First' platform signals a powerful shift in US trade policy. Though specific changes haven't been proposed, President Trump's intention is clear, 'to rebuild the American economy by fighting for free trade'.
It's an ambitious goal built upon an ambitious to-do list, which includes US withdrawal from the Trans-Pacific Partnership (TPP) agreement, a review of the North American Free Trade Agreement (NAFTA), and a greater focus on trade enforcement efforts.
While these changes won't happen overnight, businesses will need to keep an eye on the developing policies and agreements. In this article, I take a look at how President Trump's proposed plans will impact current and future trade arrangements.
Withdrawal from the TPP
Wasting no time, President Trump has issued a memorandum directing the United States Trade Representative to withdraw the US from the TPP.
Despite being a complicated instrument, withdrawal from the TPP is actually quite straightforward. Under the terms of the agreement, the USTR will need to notify the other signatories of the US' decision. Assuming that all of this is all done in January, the TPP will come to an official end in mid-2017.
Described as a state-of-the-art trade agreement, the TPP involved 12 countries on both sides of the Pacific: the United States, Japan, Malaysia, Vietnam, Singapore, Brunei, Australia, New Zealand, Canada, Mexico, Chile, and Peru. TPP also covers more than half a billion people and roughly 40% of the world's GDP. Although the agreement was signed on 4 February 2016, it's expected to come to an end in 2017.
How will the US exit impact the TPP?
The TPP would usually prevail following the withdrawal of a single country. However, given the US' standing in the agreement, its withdrawal will bring the TPP to an official end. This is because the TPP in its current form can only enter into force in one of two ways, both of which require US ratification:
All original signatories must ratify the agreement. In the US, this would involve Congress passing 'implementing legislation'. While there were suggestions that Congress could have passed a bill during the recent 'lame-duck' session, Senate Majority Leader Mitch McConnell and the newly elected Senate Minority Leader Chuck Schumer indicated that this wouldn't happen.
At least six of the original signatories (which together must be at least 85% of the combined GDP of the original signatories) must ratify the agreement. Given that the US accounts for 60.3% of the combined GDP, it won't be possible for the remaining signatories to keep the TPP alive.

New agreements on the way
Prior to his inauguration, President Trump announced that his incoming administration will negotiate new bilateral trade agreements that 'bring jobs and industry back onto American shores' in place of the TPP. While President Trump has directed the USTR to withdraw from the TPP, his administration could potentially initiate fresh trade negotiations with specific TPP countries, including Vietnam, Malaysia, Brunei, New Zealand, and Japan.
If the US seeks bilateral trade agreements with each of these countries, it'll be interesting to see how non-tariff barriers (NTBs) are addressed.[1] One of the reasons why the TPP has been described as a state-of-the-art agreement is because it was designed primarily to eliminate NTBs. The Trump-administration could potentially eliminate various US NTBs, but continue to maintain traditional tariff barriers in order to protect certain US industries.
New appointments to the United States Trade Representative (USTR) - During his election campaign, Donald Trump promised to appoint tough and smart trade negotiators to fight on behalf of American workers. At the start of 2017, Trump appointed Robert Lighthizer as the USTR. Lighthizer has previously served as the Deputy USTR in the Reagan administration.[2]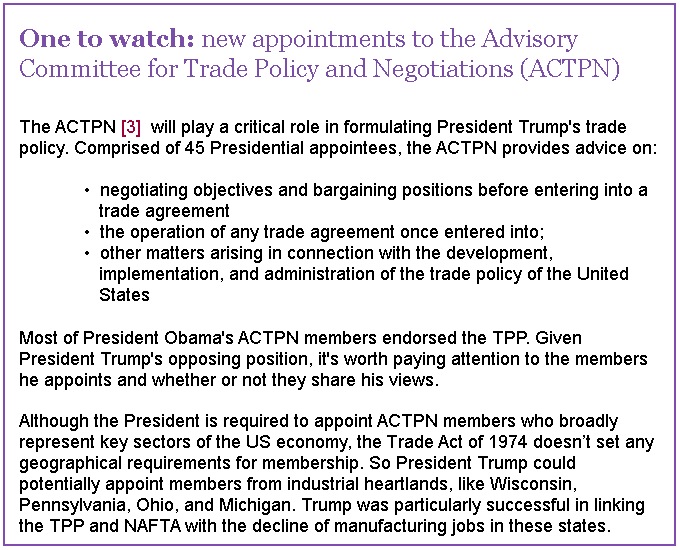 Will NAFTA go the same way as TPP?
Ever since inception in 1994, NAFTA has been highly controversial. Politicians, trade groups, and labour unions, from the US, Canada, and Mexico, have openly called for its renegotiation, citing job and profit losses, lax labour and environmental protection provisions, and colossal trade deficits. Building on 20 years of debate, President Trump has proposed that if Canada and Mexico are unwilling to renegotiate NAFTA he will withdraw the US from the agreement.
The agreement's renegotiation is likely to be a complex process involving a number of parties. It's expected that the Free Trade Commission and its various working groups and committees will be involved in NAFTA's renegotiation, as well as senior trade officials from the USTR, Global Affairs Canada, and the Mexican Secretariat of Economy. Under NAFTA, amendments must be uniformly approved by all legislative bodies, which include the Mexican Congress of the Union, the Canadian Parliament, and the US Congress. Given the sensitivity of certain trade issues and industries, any single legislative body could potentially block an amended agreement if certain provisions prove to be unpopular.
What about trade with China?
The US and China have been fairly proactive in launching World Trade Organisation (WTO) cases against one other. These disputes mostly stem from countervailing duties (CVDs) on subsidised imports. In recent years, the US has imposed CVDs on a variety of imports from China. It's not all been one-way. China also imposed CVDs on certain US goods, including automobiles and broiler products.
With China the main subject of President Trump's trade plan, tensions over the use of subsidies and CVDs are expected to continue. In his plan, Trump says he'll 'instruct the USTR to bring trade cases against China', stating that 'China's unfair subsidy behaviour is prohibited by the terms of its entrance to the WTO. In its 2016 report to Congress, the US-China Economic and Security Review Commission raised similar issues. It advised Congress to strengthen trade dispute procedures and legislation to counteract China's 'on-going failure to uphold its WTO commitments'. Given President Trump's focus on China's subsidy behaviour, it'll be interesting to see whether the Republican-dominated Congress adopts the Commission's 'hard line' policy recommendations.
A powerful shift in US trade policy
Having been a powerful topic during the United States presidential election, trade is expected to be a focal point of the Trump administration. Although specific regulatory and legislative changes haven't been proposed, the broader policy themes of TPP withdrawal, trade enforcement, and trade renegotiation, signal a powerful shift in US trade policy.
To discuss the issues raised in this article in more detail please contact me or your usual Grant Thornton contact.
Darek Domeracki, public policy manager at Grant Thornton International Ltd.
T +44 (0)20 7391 9561
E darek.domeracki@gti.gt.com
[1] NTB's refer to 'behind the border' restrictions and regulations that effectively limit market access for businesses from other jurisdictions.
[2] The USTR serves as the President's principal trade advisor and is responsible for developing and coordinating US international trade, commodity, and direct investment policy, and overseeing negotiations with other countries.
[3] The ACTPN is one of 28 advisory committees that provide information and industry advice to the USTR with respect to trade negotiations and policy.