Digital risk
How to better manage digital risk
Cyber threats continue to soar. So what's the solution? Our advice is to build a wider 'digital risk' function which integrates data privacy and cyber security. But where should you start?
IFRS
Insights into IFRS 16
Are you ready for IFRS 16? This series of insights will help you prepare.
Tax
Say goodbye to the arm's length principle
After a slow and tentative start, the OECD's push for a solution on how to allocate and tax the profits from digital business is gathering momentum.
Technology, media & telecommunications

Home
International Business Report (IBR)
TMT outlook: Can tech spend buoyancy keep the industry airborne?
Uncertainty is mounting for technology, media and telecommunications (TMT) businesses amidst a turbulent economic and political backdrop, according to the latest research from Grant Thornton. But with businesses in other industries increasingly looking to new technologies as the path to transformation, this is also a time of opportunity. So how can the TMT industry ride out the turbulence and thrive?
Businesses open to outsourcing
Two in five mid-market businesses around the world either currently outsource a back-office process, or plans to in the near future. That is the key finding from our new report - Outsourcing: driving efficiency and growth - which looks to better understand attitudes to outsourcing: Why and what functions are businesses outsourcing? What is preventing businesses from outsourcing? And how can these obstacles can be overcome?

The benefits outsourcing can offer businesses are widely recognised, with the principal drivers being desire to find efficiencies (57%) or to reduce cost (55%). Tax and accounting (49%) and IT (46%) are the main processes companies currently outsource.

However, a majority of business leaders remain reluctant to outsource; the principal barrier emerges as an unwillingness to lose control of a key process (44%) followed by the high cost of implementation (32%) and the risk involved with contracting out a key process (27%).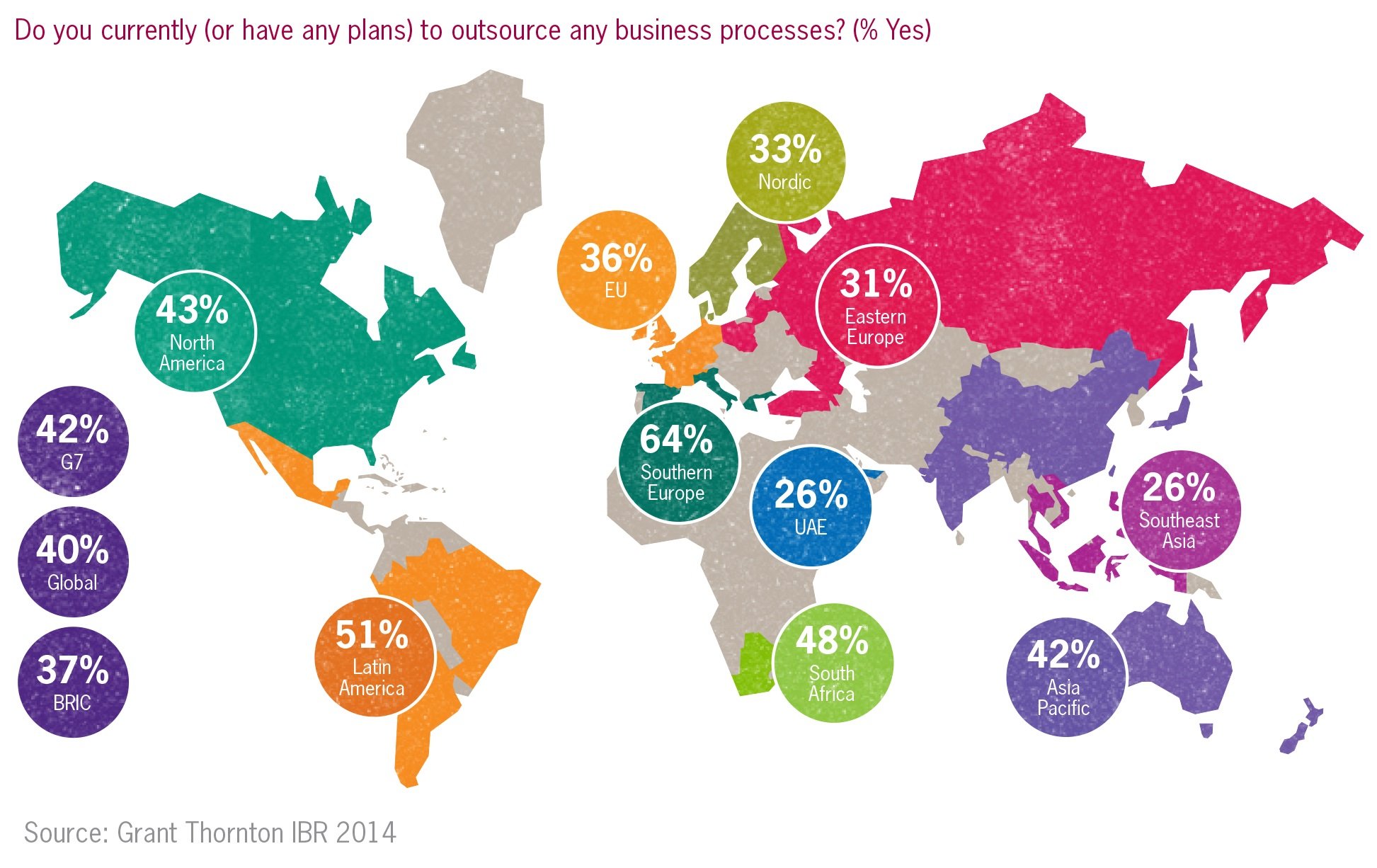 More information:
• the global press release looks at why businesses are reluctant to outsource
• the data visualisation tool allows you to explore outsourcing trends in 45 economies.

Read the full report
Download PDF [2114 kb]