Digital risk
How to better manage digital risk
Cyber threats continue to soar. So what's the solution? Our advice is to build a wider 'digital risk' function which integrates data privacy and cyber security. But where should you start?
IFRS
Insights into IFRS 16
Are you ready for IFRS 16? This series of insights will help you prepare.
Tax
Say goodbye to the arm's length principle
After a slow and tentative start, the OECD's push for a solution on how to allocate and tax the profits from digital business is gathering momentum.
Technology, media & telecommunications

Home
International Business Report (IBR)
TMT outlook: Can tech spend buoyancy keep the industry airborne?
Uncertainty is mounting for technology, media and telecommunications (TMT) businesses amidst a turbulent economic and political backdrop, according to the latest research from Grant Thornton. But with businesses in other industries increasingly looking to new technologies as the path to transformation, this is also a time of opportunity. So how can the TMT industry ride out the turbulence and thrive?
Looking to new frontier markets
The Q1 IBR economic update contained a major surprise: For the first time, not one of the BRIC economies made it into the top five for business optimism. How much should we read into this?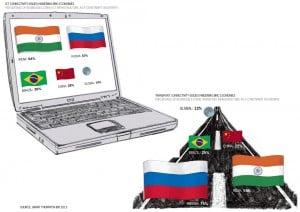 The BRIC economies have powered the global economy in recent times. According to the IMF, these four economies accounted for 31% of global growth over the past decade. And over the next five years their share of global growth will climb to 37%.
However, cracks are starting to emerge. BRIC businesses are increasingly suffering from poor connectivity. Close to half of them cite poor ICT (47%) and transport (45%) infrastructure as constraints on growth, well up on the global averages (14% and 12% respectively).
These challenges are reflected in growth figures. China slowed to 7.7% in Q1 (from 7.9% in Q4) as it continues to rebalance its economy. India is expected to grow by 6.0% in 2013, high by western standards, but dragged down from the previous norm by stifling bureaucracy and rampant inflation.
The 'Brazil cost' of doing business in Latin America's largest economy has helped pull growth rates down from 7.5% in 2010 to just 0.9% in 2012. The Russian economy remains heavily dependent on commodity prices and with unemployment low, there are fears it could be reaching productive capacity even as the 2013 forecast was slashed to just 2.4%.
So which frontier economies are waiting in the wings?
There is talk now of a new club of four – the MINT economies of Mexico, Indonesia, Nigeria and Turkey. Together they accounted for just 5% of global growth over the past decade, but their share is forecast to climb to more than 8% over the next five years.
And all four are becoming increasingly important to their regions. Mexico is set to grow faster than Brazil in 2013 and if proposed cross-party reforms are enacted could accelerate further. Indonesia is forecast to expand more quickly than India this year, and Turkey more quickly than Russia. Growth in Nigeria is expected to climb to 6.8% in 2013, well ahead of current regional leader South Africa.
Mexico is joined in the top five for business optimism by another group of rapidly developing economies; neighbours Chile and Peru, the Philippines and the United Arab Emirates. It is too early to write off the BRIC economies, but there are clearly plenty of challengers willing to soak up business investment if they continue to wobble.