Digital risk
How to better manage digital risk
Cyber threats continue to soar. So what's the solution? Our advice is to build a wider 'digital risk' function which integrates data privacy and cyber security. But where should you start?
IFRS
Insights into IFRS 16
Are you ready for IFRS 16? This series of insights will help you prepare.
Tax
Say goodbye to the arm's length principle
After a slow and tentative start, the OECD's push for a solution on how to allocate and tax the profits from digital business is gathering momentum.
Technology, media & telecommunications

Home
International Business Report (IBR)
TMT outlook: Can tech spend buoyancy keep the industry airborne?
Uncertainty is mounting for technology, media and telecommunications (TMT) businesses amidst a turbulent economic and political backdrop, according to the latest research from Grant Thornton. But with businesses in other industries increasingly looking to new technologies as the path to transformation, this is also a time of opportunity. So how can the TMT industry ride out the turbulence and thrive?
Mention Mexico in most business circles, and talk will move quickly to president Donald Trump and his promises to 'rip up Nafta', 'put America first' and 'build the wall'. But Mexico will be rescued from the worst of these associations if someone in the circle is knowledgeable enough. Because the truth is that Mexico still enjoys great access to the thriving US market. And in terms of concerns, its business leaders often worry more about politics closer to home.
For the last decade, Mexico has enjoyed heady economic growth and a strengthening currency. It is a country blessed with natural resources, a young, skilled and low-cost workforce and institutional stability. Then, of course, there is its geographic location, right next to the largest market in the world. The North American Free Trade Agreement (Nafta) created one of the largest free trade regions in the world, accounting for about one-third of the world's total GDP[i].
Mexico's export-oriented economy has taken full advantage of this. Exports from Mexico to the US increased from $39.9 billion in 1993 to $346.5 billion in 2018, equating to a merchandise trade surplus of $81.5 billion.
Preferential access remains despite Nafta renegotiation
Renegotiating Nafta had been a priority for president Trump, who described it as the "worst trade deal in the history of the country", and in late 2018 he managed to do this with the new United States-Mexico-Canada Agreement (USMCA). But Nafta remains in place until the USMCA is passed into law by all three countries, which may take some time given the political stand-off in Washington. And, more importantly, the new treaty has been described as Nafta 2.0 rather than a fundamental re-write[ii].
This means that Mexico still enjoys preferential access to the US market and should do for the immediate future – even with president Trump's recent tariff threats. The country may even become a more important base, depending on whether the US-China trade war impacts the lure of China for export-orientated companies. There are some signs that this may already be happening with Hasbro and GoPro scaling back production in China and investing instead in Mexico[iii].
To widen its potential markets, Mexico has also been actively signing trade agreements outside of North America. It now has commercial treaties with more than 50 other countries including with the European Union, Middle Eastern nations and Asia.
It's easy to see then why the World Bank is expecting Mexico to grow at nearly twice the rate of the Latin America and Caribbean region in 2019 and continue to outperform beyond this[iv]. Research into Mexico by the Economist Intelligence unit commissioned by Grant Thornton estimated revenue growth from the mid-market, a significant part of the economy, of 2.8% per year to 2022, to reach an estimated $124.9 billion.
The managing partner of Salles, Sainz – Grant Thornton Mexico, Mauricio Brizuela, highlights food and beverage, transport machinery and computer equipment as sectors which have enjoyed strong growth in 2019. The financial services sector has flourished in recent years due to domestic reforms to bolster competition and growing domestic demand. The country has also been an emerging centre for technology and AI companies, thanks in part to a government strategy to achieve the highest level of connectivity in Latin America.
Barriers to growth are lower than other Latin American countries
Grant Thornton's long-running research among mid-market companies reveals that business leaders perceive that barriers to business growth in Mexico are lower than other large Latin American countries, underlining its appeal to existing and new businesses. One of the striking things about Mexico's results is that labour costs and access to skilled labour are both below regional averages – a rare double that speaks to the breadth and depth of its labour market.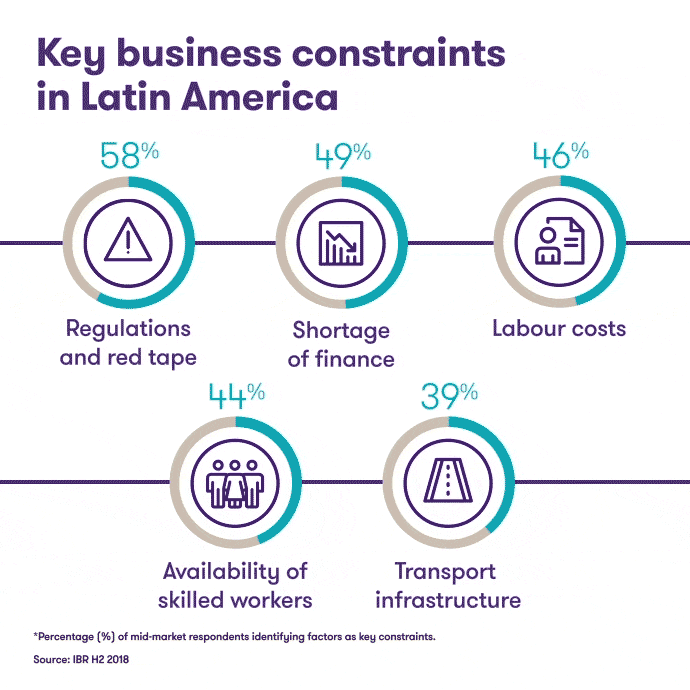 Mauricio Brizuela notes: "Mexico has attracted foreign investors over the years because of its constant economic growth and the stability of its internal and external environment. This is a country were companies can access low labour costs, but it also has the necessary infrastructure to support the operations of companies that need to interact with local or foreign businesses."
There are certainly aspects of doing business in the country that international businesses find challenging. When first moving to Mexico, company incorporation can be difficult because of the number of procedures that they must complete and the special registration required by the Secretary of Economy.
And while Mexico's tax regime is fairly straightforward, compliance can be difficult for new businesses. For example, all companies need to upload parts of their financial statements onto a government system on a monthly basis, and must use electronic invoices containing very specific information in order to take tax deductions. To help with all of this, many international companies opt to use local finance and tax companies like Salles, Sainz – Grant Thornton.
There are also the challenges of organised crime and violence, but the worst threats here are localised and foreign companies learn how to navigate them, often by teaming up with good local partners.
New Mexican president brings some uncertainties
The biggest current concern among Mexican businesses is the impact of the newly-elected president Andrés Manuel López Obrador, or AMLO as he is better known. His policies have been described as both left-wing and populist, and include commitments to eradicating institutional corruption, doubling the minimum wage and pension for the elderly, ending the war on drugs and greater use of referendums for important national decisions.
Even before taking office, he was true to his last policy by holding a referendum on whether or not the project to construct the New International Airport for Mexico City should be scrapped because of concerns about graft and waste. Although just one million people voted – in a country of 130 million – they voted in favour of cancelling the project, and AMLO acted on their wishes despite the limitations of the voting process and the costs already incurred.
This decision caused concern among the business community particularly given the importance of the new airport to Mexico's economic growth, but it's still early days in his presidency. "The jury is out on AMLO. We have to watch and wait and see what he implements and how that impacts the business community," says Roy Buddle, regional leader – Americas at Grant Thornton International.
While the uncertainty persists, businesses are holding back on new projects, looking carefully at their cash flows and managing their borrowings given the possibility of interest rate rises, and Salles, Sainz – Grant Thornton is supporting them with this.
Accessing the potential of the Mexican market
Despite the home-grown uncertainty and foreign sabre-rattling that dominates today's headlines, it's important to remember that Mexico is still a hotspot for international businesses that will endure thanks to its unique access to the riches of North America and its fundamental competitive advantages.
Contact Mauricio Brizuela to discuss how Salles, Sainz – Grant Thornton in Mexico can support your business, and find out about our range of services and industry group offerings.
[i] Congressional Research Service [PDF, 1.4mb), March 2019