Digital risk
How to better manage digital risk
Cyber threats continue to soar. So what's the solution? Our advice is to build a wider 'digital risk' function which integrates data privacy and cyber security. But where should you start?
IFRS
Insights into IFRS 16
Are you ready for IFRS 16? This series of insights will help you prepare.
Tax
Say goodbye to the arm's length principle
After a slow and tentative start, the OECD's push for a solution on how to allocate and tax the profits from digital business is gathering momentum.
Technology, media & telecommunications

Home
International Business Report (IBR)
TMT outlook: Can tech spend buoyancy keep the industry airborne?
Uncertainty is mounting for technology, media and telecommunications (TMT) businesses amidst a turbulent economic and political backdrop, according to the latest research from Grant Thornton. But with businesses in other industries increasingly looking to new technologies as the path to transformation, this is also a time of opportunity. So how can the TMT industry ride out the turbulence and thrive?
Peter Bodin appointed as Chair for IMPACT2030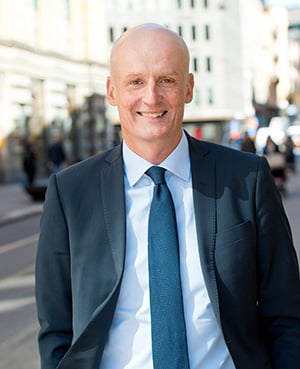 As IMPACT2030 host its global summit at the United Nations Headquarters in New York, it announced the appointment of Peter Bodin, Grant Thornton International CEO, as its new chair of the board.
IMPACT2030 is a private sector led coalition which aims to direct the collective skills, experience and passion of corporate volunteers towards helping the United Nations achieve their Sustainable Development Goals. These Global Goals are a universal call to action to end poverty, protect the planet and ensure that all people enjoy peace and prosperity. IMPACT2030 was founded in response to a United Nations resolution that called upon nations to engage with the private sector through the expansion of corporate volunteering and employee volunteer activities.
Peter Bodin, Grant Thornton International CEO says: "I'm extremely excited and honoured to join IMPACT2030 as chair of the board. I've watched the IMPACT2030 initiative for some time and I have been impressed with the work that the organisation has done to advance the United Nations' Sustainable Development Goals.
"After spending 30 years in business, I truly believe that the private sector has a unique opportunity and genuine responsibility to help society make these goals a reality. People are the private sector's most valuable asset and by focusing their collective energy on the Sustainable Development Goals, we can help wider society make true progress towards a better and more sustainable future for all."
Peter Bodin takes over as chair from IMPACT2030 co-founder, Grady Lee, who will stay on as vice chair.
Sue Stephenson, IMPACT2030 interim CEO says: "Peter will be a vital asset to the IMPACT2030 team as we look to increase our engagement with the private sector and elevate the conversation and our purpose to a global level. His global experience, in-depth knowledge of the private sector and passion for driving real organisational change will be invaluable."
Grant Thornton is a founding partner of IMPACT2030 and is also advocacy sponsor of their 2018 summit Accelerating Impact which is being held at the United Nations Headquarters in New York from 5-7 September 2018. The summit aims to showcase the potential impact that millions of corporate volunteers can have by channeling their collective skills and experience to help address poverty, improve opportunity, promote education, fight inequalities and tackle climate change.
For further information, please contact Thor Bostelmann, Corporate Communications Manager on +44 (0)20 3890 8422.