Digital risk
How to better manage digital risk
Cyber threats continue to soar. So what's the solution? Our advice is to build a wider 'digital risk' function which integrates data privacy and cyber security. But where should you start?
IFRS
Insights into IFRS 16
Are you ready for IFRS 16? This series of insights will help you prepare.
Tax
Say goodbye to the arm's length principle
After a slow and tentative start, the OECD's push for a solution on how to allocate and tax the profits from digital business is gathering momentum.
Technology, media & telecommunications

Home
International Business Report (IBR)
TMT outlook: Can tech spend buoyancy keep the industry airborne?
Uncertainty is mounting for technology, media and telecommunications (TMT) businesses amidst a turbulent economic and political backdrop, according to the latest research from Grant Thornton. But with businesses in other industries increasingly looking to new technologies as the path to transformation, this is also a time of opportunity. So how can the TMT industry ride out the turbulence and thrive?
Grant Thornton donation to UNICEF tops US$360,000
Grant Thornton has donated US$30,950 to UNICEF UK as part of its ongoing association through the International Business Report (IBR). This takes the total donation made through the project over the past eight years to over US$360,000.
Now in its 22nd year, the IBR is the leading quarterly mid-market business survey in the world, providing insight into the economic and commercial issues affecting more than 10,000 businesses in over 35 economies every year.
Grant Thornton makes a donation of US$2 to UNICEF UK for every completed interview.
Paul Raleigh, global leader for strategic growth at Grant Thornton, said: "We are committed to unlocking the potential for growth in our communities. The US$360,000 donated since the association with UNICEF began could pay for over 30 temporary schools for children affected by natural disasters, war or displacement. It is a privilege to be able to make a difference of this kind, through our IBR. UNICEF operates in many of the same economies as our 38,500 people and we are delighted to be working with another truly global organisation."
Kate Goldman, Director of Corporate Partnerships at UNICEF UK said: "Grant Thornton continues to help transform children's lives through their generous support of Unicef. We are thrilled to be working in partnership with them, their longstanding support is helping to improve the lives of children across the world."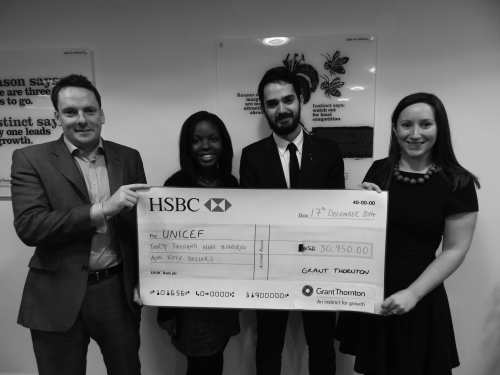 (From left to right) Dominic King, Natalie Igweze (both GTIL) David Bedi (UNICEF UK) Sara-Jane Knox (GTIL)