Digital risk
How to better manage digital risk
Cyber threats continue to soar. So what's the solution? Our advice is to build a wider 'digital risk' function which integrates data privacy and cyber security. But where should you start?
IFRS
Insights into IFRS 16
Are you ready for IFRS 16? This series of insights will help you prepare.
Tax
Say goodbye to the arm's length principle
After a slow and tentative start, the OECD's push for a solution on how to allocate and tax the profits from digital business is gathering momentum.
Technology, media & telecommunications

Home
International Business Report (IBR)
TMT outlook: Can tech spend buoyancy keep the industry airborne?
Uncertainty is mounting for technology, media and telecommunications (TMT) businesses amidst a turbulent economic and political backdrop, according to the latest research from Grant Thornton. But with businesses in other industries increasingly looking to new technologies as the path to transformation, this is also a time of opportunity. So how can the TMT industry ride out the turbulence and thrive?
Grant Thornton expands through M&A in the UK, Australia, Canada, Cyprus and Isle of Man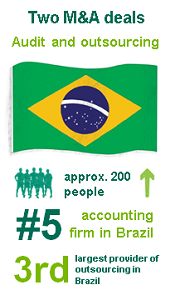 Grant Thornton announced expansion in the United Kingdom, Australia, Canada, Cyprus and the Isle of Man, following 17 successfully completed mergers and acquisitions around the world in the seven months to 30 April 2014.
In the UK, Grant Thornton acquired London based analytics firm Local Futures Group, supporting a strategic shift to holistic business advice for private and public sector clients by bolstering its analytics offering in the market.
The audit, tax and advisory practice which formerly traded as KPMG Cairns merged with Grant Thornton Australia, increasing both its services and geographical coverage of Northern Australia. The Cairns office brings with it specific expertise in the public sector and indigenous business enterprises.
In Canada, Grant Thornton expanded with the acquisition of Horwich Rossiter in Halifax, Haley in Novia Scotia and Lemire Morin Tremblay in Gatineau.
Grant Thornton Cyprus merged with Mouzouris & Polyviou Ltd, specialising in serving small and mid-sized businesses across a range of industries including construction, property, investment holding and financing.
Grant Thornton in the Isle of Man doubled in size due to its merger with BDO and revenues are expected to increase by over 70%.
Grant Thornton led global accounting organizations in growth for a second consecutive year and is International Accounting Bulletin's Network of the Year.
About Grant Thornton
Grant Thornton is one of the world's leading organisations of independent assurance, tax and advisory firms. These firms help dynamic organisations unlock their potential for growth by providing meaningful, forward looking advice. Proactive teams, led by approachable partners in these firms, use insights, experience and instinct to understand complex issues for privately owned, publicly listed and public sector clients and help them to find solutions. More than 35,000 Grant Thornton people, across over 100 countries, are focused on making a difference to clients, colleagues and the communities in which we live and work.
"Grant Thornton" refers to the brand under which the Grant Thornton member firms provide assurance, tax and advisory services to their clients and/or refers to one or more member firms, as the context requires. Grant Thornton International Ltd (GTIL) and the member firms are not a worldwide partnership. GTIL and each member firm is a separate legal entity. Services are delivered by the member firms. GTIL does not provide services to clients. GTIL and its member firms are not agents of, and do not obligate, one another and are not liable for one another's acts or omissions.