Digital risk
How to better manage digital risk
Cyber threats continue to soar. So what's the solution? Our advice is to build a wider 'digital risk' function which integrates data privacy and cyber security. But where should you start?
IFRS
Insights into IFRS 16
Are you ready for IFRS 16? This series of insights will help you prepare.
Tax
Say goodbye to the arm's length principle
After a slow and tentative start, the OECD's push for a solution on how to allocate and tax the profits from digital business is gathering momentum.
Technology, media & telecommunications

Home
International Business Report (IBR)
TMT outlook: Can tech spend buoyancy keep the industry airborne?
Uncertainty is mounting for technology, media and telecommunications (TMT) businesses amidst a turbulent economic and political backdrop, according to the latest research from Grant Thornton. But with businesses in other industries increasingly looking to new technologies as the path to transformation, this is also a time of opportunity. So how can the TMT industry ride out the turbulence and thrive?
Grant Thornton named International Accounting Bulletin's Network of the Year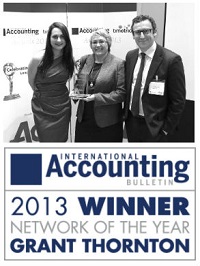 Grant Thornton has been named the International Accounting Bulletin's 'Network of the Year' at an award ceremony held in London.
Ed Nusbaum, global CEO of Grant Thornton, said of the award win, "I am proud of this award, but all credit goes to over 35,000 Grant Thornton people in more than 120 countries for their commitment and hard work in providing high quality services to our clients and in helping them unlock their potential for growth.
2012 saw Grant Thornton grow faster (10.4%) than the other largest global accounting networks and provide thought leadership on critical global accounting issues such as lease accounting, revenue recognition, EU auditor reform, corporate governance and improving the auditor's report.
The Network of the Year award, which was judged by an independent panel and was based on a firm's ability to demonstrate their strength across a number of key areas including: evidence of top-level network-wide audit quality; a strengthened position in strategically important markets; and strong industry leadership.
Group Editor for Asset Finance and Accounting Fred Crawley said this years awards attracted more than 100 nominations from all parts of the world and we are delighted at the strength of applicants and the support these industry awards have received globally.