Digital risk
How to better manage digital risk
Cyber threats continue to soar. So what's the solution? Our advice is to build a wider 'digital risk' function which integrates data privacy and cyber security. But where should you start?
IFRS
Insights into IFRS 16
Are you ready for IFRS 16? This series of insights will help you prepare.
Tax
Say goodbye to the arm's length principle
After a slow and tentative start, the OECD's push for a solution on how to allocate and tax the profits from digital business is gathering momentum.
Technology, media & telecommunications

Home
International Business Report (IBR)
TMT outlook: Can tech spend buoyancy keep the industry airborne?
Uncertainty is mounting for technology, media and telecommunications (TMT) businesses amidst a turbulent economic and political backdrop, according to the latest research from Grant Thornton. But with businesses in other industries increasingly looking to new technologies as the path to transformation, this is also a time of opportunity. So how can the TMT industry ride out the turbulence and thrive?
Grant Thornton named 'Best managed international firm'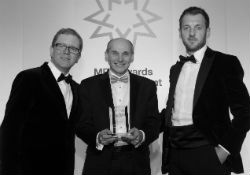 The Managing Partners' Forum, a professional body that celebrates the value of leadership and management excellence, has named Grant Thornton 'Best managed international firm.' Judged by an independent panel of subject matter experts, the award recognises the strength of Grant Thornton's global strategy and leadership, which has enabled Grant Thornton to lead the major global accounting networks in revenue growth for the last two years.
Ed Nusbaum, Grant Thornton global CEO, said, "I am delighted that we have been named 'Best managed international firm'. The award is a reflection of our clear focus on achieving our strategy, as well as the great work, collaboration and determination of everyone working for Grant Thornton globally. We have one clear strategy and I thank everyone at Grant Thornton for their commitment to making it a reality in each market."
The award criteria focuses on six key areas: effective communication of the strategy; collaboration with external specialists and partners; positive impact on the client experience; enthusiastic employees living the firm's values; performance improvement and commercial success.
The judging panel said, "Grant Thornton is faced with the formidable competition of the Big 4 accounting firms but has developed an ambitious five year strategy across 127 countries, with a view to both growing revenues and enhancing its reputation. In a difficult market the firm has achieved very significant levels of growth, a level of international co-ordination and integration and has now positioned itself as a strong and credible challenger brand in a very consolidated market."
For a full list of award winners visit the MPF website.