"We have served more than a decade of highly admirable professional services to the nation. We bring the world class capabilities and deep local expertise to help clients succeed in their goals and make sure that we deliver high quality services by combining the best local and international resources."
N R Raghavan Nambiar, Managing partner
We are Nambiar Grant Thornton
Nambiar Grant Thornton provides services to over 150 clients including both local and multinational companies from over 45 nationalities. The firm has significant presence across manufacturing, services, commercial, financial and public sector entities across the country.
Fast figures
US$0.68
million
Revenue

Global strength
Grant Thornton is one of the world's leading organisations of independent assurance, tax and advisory firms. With more than 53,000 Grant Thornton people, across over 135 countries, we are focused on making a difference to clients, colleagues and the communities in which we live and work.

Why Grant Thornton
The philosophy of our firm is to adapt services to the specific needs of each assignment while maintaining a personalised relationship with each client. Professionals are chosen according to both the activity of the client and the nature of the assignment. We help dynamic businesses unlock their potential for growth.
Awards
Grant Thornton is an award-winning globally recognised professional services network. Here are some of our awards:

MCA Project of the year 2015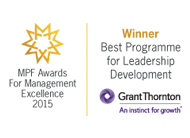 Best Programme for Leadership Development in 2015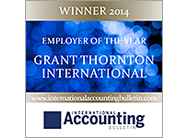 IAB Employer of the year 2014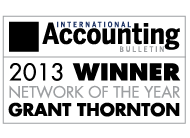 Global network of the year 2013